What to do in Genting Highland – Genting Casino
Genting Highland Casino, try your luck. All types of table games and slot machines. Each of the hotel has a casino, there is no chance you miss a casino in Genting Highland Malaysia.
Nightlife in Genting Highland Malaysia
There are plenty of nightlife in Genting Highland Malaysia. Wine Bar, Clubs, Karaoke, Private Casino Pub, Zouk Genting, Empire Genting, Red Tail Genting, Cloud 9 Genting
Park Avenue Lounge
This modern and stylish lounge has a maximum seating capacity of 120. Non-alcoholic beverages are priced between RM18 and RM33 while alcoholic drinks are priced between RM40 and RM95.
Happy Hour Promotions
Whether it's beer, wine, cocktail, coffee or tea, enjoy your favourite beverage with an unbeatable view only at Park Avenue Lounge.
PROMOTION : RM99 BEER BUCKET
Available from 12 noon until closing
Choice of Heineken/ Tiger/ Guinness
Cloud 9 – Genting Highland Nightlife
Location: Lower Lobby Level, Genting Grand
Monday, Friday, Saturday and eve of public holiday: 5pm – 5am
Tuesday, Wednesday, Thursday and Sunday: 5pm – 3am
Zouk Genting – Genting Highland Nightlife
With a 35,000 square feet space, Zouk Genting together, Empire, Zouk Club, RedTail by Zouk, RedTail Karaoke and FUHU a brand new vibe dining concept, allow customer to enjoy endless luxury in an array of ambiances in one ideal location above the clouds.
Location: Zouk Atrium, SkyAvenue (below Burger & Lobster)
Friday – Saturday: 11pm – 5am
https://zoukgenting.com/
Power Plant Genting – Genting Highland Nightlife
Cold Beer, Nice Korean hotpot, there is band singing in the night, there is also live band opposite power plant, high line bar. Your night is never lonely.
High Line Roof Top Market @ Sky Avenue – Genting Highland Nightlife
Mouth-watering dining at this Al Fresco joint – Fish Market, Burgers, Barbeque, Crepes and a selection of beer from Brooklyn Brewery and cocktails
20th Century Fox World – Genting Outdoor Theme Park
Slated to be completed End 2020 or Early 2021. 25 thrill rides and attractions based on diverse films and franchises like Blue Sky Studios' Ice Age and Rio, Life of Pi, Night at the Museum, Planet of the Apes, Alien vs. Predator, Titanic and Sons of Anarchy.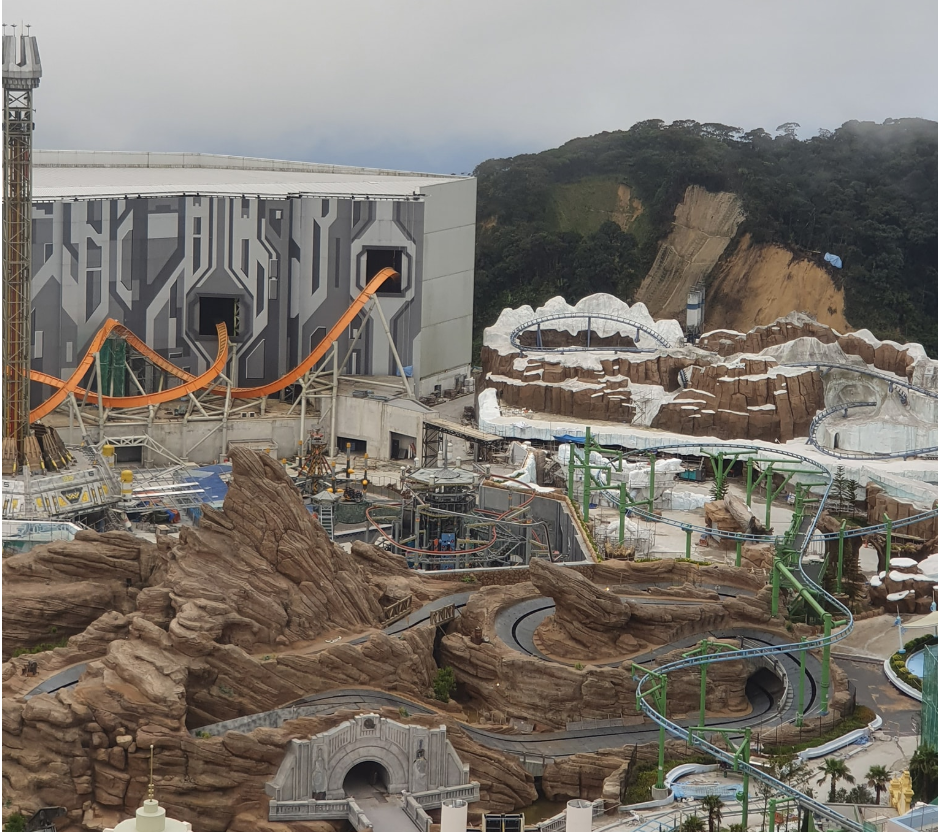 Skytropolis – Genting Indoor Theme Park
Genting Highland Indoor Theme Park Plenty of Rides games, VR, with rides cater to children, family and extreme rides. 1 day Unlimited Pass from RM 60
What to do in Genting Highland – Shopping at Genting Highland
Genting Highlands Premium Outlets – Shopping at Genting Highland
The shopping destination offers more than 150 designer brands and stores with savings up to 65% daily.
SkyAvenue – Shopping at Genting Highland
High street on top of a mountain
With more than 100 brands and shops, you can get everything ranging from your everyday needs to exquisite jewellery, timepieces, shoes, gadgets and more at SkyAvenue.
First World Plaza – Shopping at Genting Highland
BATA Level 2 T2A-10
BRANDS OUTLET Level 3 T2B-05 & 06
CARLO RINO Level 2 T2A-17
CHEETAH Level 2 T2A-19
MILANO EYEWEAR Level 2 T2A-07
PONEY Level 2 T2A-13
SEMBONIA Level 2 T2A-16
SODA Level 2 T2A-01
SOX WORLD Level 2 T2A-08
TANGS Level 2 T2A-21, 22 & 23
VINCCI SHOES Level 2 T2A-05
VOIR Level 2 T2A-02 & 03
YOUNG HEARTS Level 2 T2A-20
Sky Symphony Genting – Shopping at Genting Highland
Sky Symphony Genting, one of which is called The Forest. Accompanied by tranquil sounds of a rainforest, expect displays of vibrant and fluorescent 3D gesture drawings of endangered species such as the Sumatran tiger, Bornean orang utan, Asian elephant, Sumatran rhinoceros, and hornbills.
Awana SkyWay Gondolas – Genting Cable Car
There are two types of gondolas to choose from, both of which offer a bird's eye view. The standard gondola can accommodate up to 10 passengers, while the transparent glass-floor gondola accommodates only six passengers.
Awana Horse Ranch Genting Highland
Saddled atop a beautiful horse and take in the sights of the greenery of the tropical forest. The equestrian centre is located within the Awana Genting Highlands Golf & Country Resort
Awana genting golf and country resort – Genting Highland
Awana Genting Golf and Country Resort, comfort in five-star luxury enjoying the breathtaking view of a majestic mountain range, and make full use of our 18-hole golf course, heated swimming pool, and other sports facilities.
Chin Swee Caves Temple – Genting Highland
Grand religious site located on a sharp, rocky slope near the peak of Resorts World Genting. visit https://www.chinswee.org/
Genting Strawberry Leisure Farm – Genting Highland
Explore Genting Strawberry Leisure Farm at Mid Hill Gotong Jaya. Pick some strawberry. Entrance fee is RM8 (adult) and RM5 (child). In the orchard, visitors could opt to purchase pre-packed strawberries at the price of RM15 per box weighing 250 grammes, or self-pick every 100 grammes for RM8
Happy Bee Farm Genting – Genting Highland
Happy Bee Farm Genting offers visitors a first-hand yet safe experience on bee farming in Genting Highlands. It houses a butterfly farm, café, and retail outlet selling reasonably-priced products such as bee pollen, royal jelly, propolis, and natural honey.
Lim Goh Tong Memorial Hall – Genting Highland
Lim Goh Tong was known in the region for having put the Genting Highlands on the map and for much of the development that has happened in the area. Learn some history of Genting Highland and pay respect to the late Lim Goh Tong
Arena of Stars – Genting Highland
The Arena of Stars is made up of a huge theater which has a dazzling lighting system and international stars regularly play here.
Snow World – Genting Highland
Winter landscape that has to be seen to be believed and there is even an actual snow slide 
Mini Cameron Highlands Garden – Genting Highland
The gardens feature a small strawberry farm as well as a number of sections that showcase hydroponic vegetables as well as mushrooms.
Gotong Jaya Chinese Restaurant – Genting Highland
Gohtong Jaya (Chinese: 梧桐再也) is a service township of Genting Highlands, in Bentong District, Pahang while some part located in Batang Kali, Hulu Selangor District, Selangor, Malaysia. It was erected and named after Tan Sri Lim Goh Tong, the founder of Genting Group.